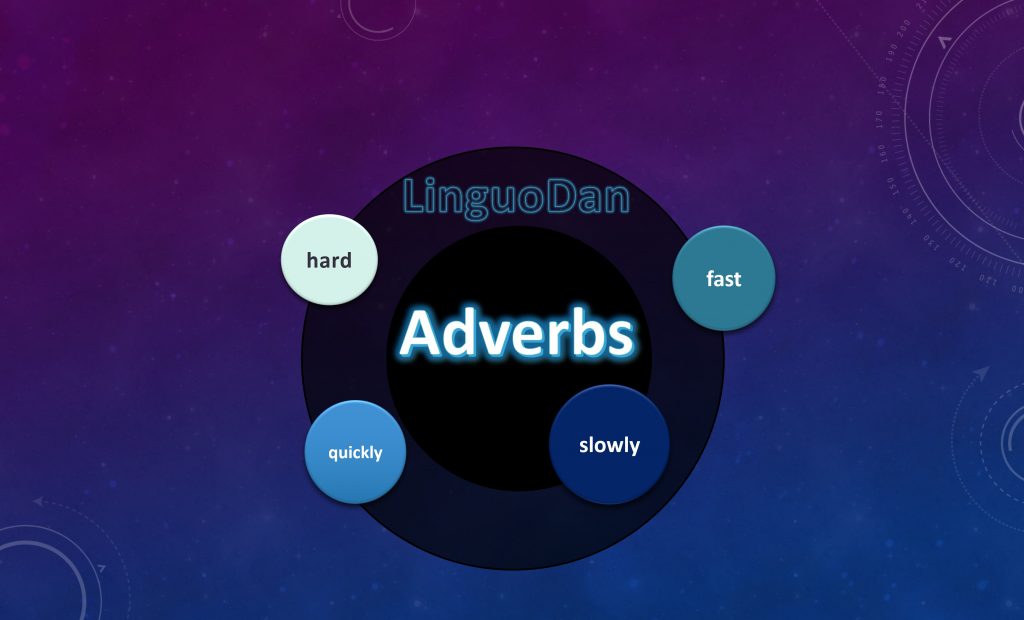 Adverb – it is an independent part of speech that indicates a sign of action. The adverb  answers the question: how? where? where? When? etc. and act as circumstances in the sentence.
Adverbs in English are divided into the following types according to their meaning: adverbs of place, time, degree and measure, manner of action, question and others.
Types of adverbs

Adverbs of place
here; there; where; inside; outside; above; below; somewhere; anywhere
Adverbs of time
now; when; then; today;

yesterday; tomorrow; before;

usually; sometimes; already; yet; still; since

Adverbs of degree and measure
much; little; very; too; so; enough, hardly; nearly
Adverbs of action
well,  quickly; slowly; quietly; easily
Question adverbs
how; when; where
Classification of adverbs by structure
Simple
They consist of one base, one root
fast, slow, far
Complicated
They are formed with the help of several roots
somewhere, something
Derivatives
They are formed by adding suffixes
quickly, slowly
Folded
Include two or more words
at all, by all means
How to distinguish an adverb from an adjective
Usually, adverbs can be identified by their characteristic suffix -ly, but adjectives can also have such a suffix. The main feature is that adjectives describe nouns, and adverbs describe verbs, adjectives, or other adverbs. For example: he drives very fast.
List Of Adverbs
| Adverbs (EN) | Прислівники (УКР) |
| --- | --- |
| abnormally | ненормально |
| absentmindedly | неуважно |
| accidentally | випадково |
| acidly | кислотно |
| actually | насправді |
| adventurously | авантюрно |
| afterwards | згодом |
| almost | майже |
| always | завжди |
| angrily | сердито |
| annually | щорічно |
| anxiously | тривожно |
| arrogantly | зарозуміло |
| awkwardly | незграбно |
| badly | погано |
| bashfully | сором'язливо |
| beautifully | красиво |
| bitterly | гірко |
| bleakly | похмуро |
| blindly | наосліп |
| blissfully | блаженно |
| boastfully | хвалькувато |
| boldly | сміливо |
| bravely | відважно |
| briefly | коротко |
| brightly | яскраво |
| briskly | жваво |
| broadly | широко |
| busily | діловито |
| calmly | спокійно |
| carefully | ретельно |
| carelessly | недбало |
| cautiously | обережно |
| certainly | звичайно |
| cheerfully | весело |
| clearly | ясно |
| cleverly | спритно |
| closely | тісно |
| coaxingly | вмовляючи |
| colorfully | барвисто |
| commonly | зазвичай |
| continually | постійно |
| coolly | прохолодно |
| correctly | правильно |
| courageously | мужньо |
| crossly | перехресно |
| cruelly | жорстоко |
| curiously | цікаво |
| daily | щодня |
| daintily | витончено |
| dearly | дорого |
| deceivingly | оманливо |
| delightfully | чудово |
| deeply | глибоко |
| defiantly | зухвало |
| deliberately | свідомо |
| delightfully | чудово |
| diligently | старанно |
| dimly | тьмяно |
| doubtfully | сумнівно |
| dreamily | мрійливо |
| easily | легко |
| elegantly | елегантно |
| energetically | енергетично |
| enormously | надзвичайно |
| enthusiastically | з ентузіазмом |
| equally | порівну |
| especially | особливо |
| even | навіть |
| evenly | рівномірно |
| eventually | зрештою |
| exactly | точно |
| excitedly | схвильовано |
| extremely | надзвичайно |
| fairly | справедливо |
| faithfully | віддано |
| famously | знаменито |
| far | далеко |
| fast | швидко |
| fatally | смертельно |
| ferociously | люто |
| fervently | палко |
| fiercely | люто |
| fondly | ніжно |
| foolishly | по-дурному |
| fortunately | на щастя |
| frankly | відверто кажучи |
| frantically | шалено |
| freely | вільно |
| frenetically | шалено |
| frightfully | жахливо |
| fully | повністю |
| furiously | люто |
| generally | загалом |
| generously | щедро |
| gently | обережно |
| gladly | із задоволенням |
| gleefully | радісно |
| gracefully | витончено |
| gratefully | з вдячністю |
| greatly | сильно |
| greedily | жадібно |
| happily | щасливо |
| hastily | поспішно |
| healthily | здорово |
| heavily | сильно |
| helpfully | послужливо |
| helplessly | безпорадно |
| highly | високо |
| honestly | чесно |
| hopelessly | безнадійно |
| hourly | погодинно |
| hungrily | жадібно |
| immediately | негайно |
| innocently | невинно |
| inquisitively | допитливо |
| instantly | миттєво |
| intensely | інтенсивно |
| intently | уважно |
| interestingly | цікаво |
| inwardly | всередину |
| irritably | роздратовано |
| jaggedly | зубчасто |
| jealously | ревниво |
| joshingly | весело |
| joyfully | радісно |
| joyously | радісно |
| jovially | весело |
| jubilantly | радісно |
| judgmentally | осудливо |
| justly | справедливо |
| keenly | гостро |
| kiddingly | жартома |
| kindheartedly | добросердечно |
| kindly | люб'язно |
| knavishly | підступно |
| knottily | вузлуватий |
| knowingly | свідомо |
| knowledgeably | обізнано |
| kookily | Кукілі |
| lazily | ліниво |
| less | менше |
| lightly | злегка |
| likely | ймовірно |
| limply | мляво |
| lively | жвавий |
| loftily | піднесено |
| longingly | з тугою |
| loosely | вільно |
| lovingly | любовно |
| loudly | голосно |
| loyally | лояльно |
| madly | божевільно |
| majestically | велично |
| meaningfully | осмислено |
| mechanically | механічно |
| merrily | весело |
| miserably | жалюгідно |
| mockingly | глузливо |
| monthly | щомісяця |
| more | більше |
| mortally | смертельно |
| mostly | в основному |
| mysteriously | загадково |
| naturally | природно |
| nearly | майже |
| neatly | акуратно |
| needily | нужденно |
| nervously | нервово |
| never | ніколи |
| nicely | красиво |
| noisily | шумно |
| not | ні |
| obediently | слухняно |
| obnoxiously | огидно |
| oddly | як не дивно |
| offensively | образливо |
| officially | офіційно |
| often | часто |
| only | тільки |
| openly | відкрито |
| optimistically | оптимістично |
| overconfidently | надмірно самовпевнено |
| owlishly | по-совиному |
| painfully | болісно |
| partially | частково |
| patiently | терпляче |
| perfectly | ідеально |
| physically | фізично |
| playfully | грайливо |
| politely | ввічливо |
| poorly | погано |
| positively | позитивно |
| potentially | потенційно |
| powerfully | потужно |
| promptly | оперативно |
| properly | належним чином |
| punctually | пунктуально |
| quaintly | химерно |
| quarrelsomely | сварливо |
| queasily | нудотно |
| queerly | дивно |
| questionably | сумнівно |
| questioningly | запитально |
| quicker | швидше |
| quickly | швидко |
| quietly | тихо |
| quirkily | вигадливо |
| quizzically | дивно |
| rapidly | швидко |
| rarely | рідко |
| readily | легко |
| really | насправді |
| reassuringly | заспокійливо |
| recklessly | необачно |
| regularly | регулярно |
| reluctantly | неохоче |
| repeatedly | неодноразово |
| reproachfully | докірливо |
| restfully | спокійно |
| righteously | справедливо |
| rightfully | по праву |
| rigidly | жорстко |
| roughly | приблизно |
| rudely | грубо |
| sadly | сумно |
| safely | безпечно |
| scarcely | навряд чи |
| scarily | страшно |
| searchingly | пошуково |
| sedately | статечно |
| seemingly | начебто |
| seldom | рідко |
| selfishly | егоїстично |
| separately | окремо |
| seriously | серйозно |
| shakily | тремтливо |
| sharply | різко |
| sheepishly | збентежено |
| shrilly | пронизливо |
| shyly | сором'язливо |
| silently | мовчки |
| sleepily | сонно |
| slowly | повільно |
| smoothly | плавно |
| softly | м'яко |
| solemnly | урочисто |
| solidly | міцно |
| sometimes | іноді |
| soon | скоро |
| speedily | швидко |
| stealthily | крадькома |
| sternly | суворо |
| strictly | суворо |
| successfully | успішно |
| suddenly | раптово |
| surprisingly | на диво |
| suspiciously | підозріло |
| sweetly | солодко |
| swiftly | швидко |
| sympathetically | співчутливо |
| tenderly | ніжно |
| tensely | напружено |
| terribly | жахливо |
| thankfully | на щастя |
| thoroughly | ретельно |
| thoughtfully | задумливо |
| tightly | щільно |
| tomorrow | завтра |
| too | теж |
| tremendously | надзвичайно |
| triumphantly | тріумфально |
| truly | по-справжньому |
| truthfully | правдиво |
| ultimately | зрештою |
| unabashedly | беззастережно |
| unaccountably | беззвітно |
| unbearably | нестерпно |
| unethically | неетично |
| unexpectedly | несподівано |
| unfortunately | на жаль |
| unimpressively | невражаюче |
| unnaturally | неприродно |
| unnecessarily | без потреби |
| utterly | повністю |
| upbeat | оптимістичний |
| upliftingly | піднесено |
| upright | вертикально |
| upside-down | догори ногами |
| upward | вгору |
| upwardly | вгору |
| urgently | терміново |
| usefully | корисно |
| uselessly | марно |
| usually | зазвичай |
| utterly | повністю |
| vacantly | вакантно |
| vaguely | невиразно |
| vainly | даремно |
| valiantly | відважно |
| vastly | значно |
| verbally | вербально |
| very | дуже |
| viciously | злісно |
| victoriously | переможно |
| violently | насильно |
| vivaciously | жваво |
| voluntarily | добровільно |
| warmly | тепло |
| weakly | слабо |
| wearily | втомлено |
| well | Ну |
| wetly | вологий |
| wholly | цілком |
| wildly | дико |
| willfully | навмисно |
| wisely | мудро |
| woefully | сумно |
| wonderfully | чудово |
| worriedly | стурбовано |
| wrongly | неправильно |
| yawningly | позіхаючи |
| yearly | щорічно |
| yearningly | тугою |
| yesterday | вчора |
| yieldingly | поступливо |
| youthfully | по-юнацьки |
| zealously | завзято |
| zestfully | захоплено |
| zestily | пікантно |