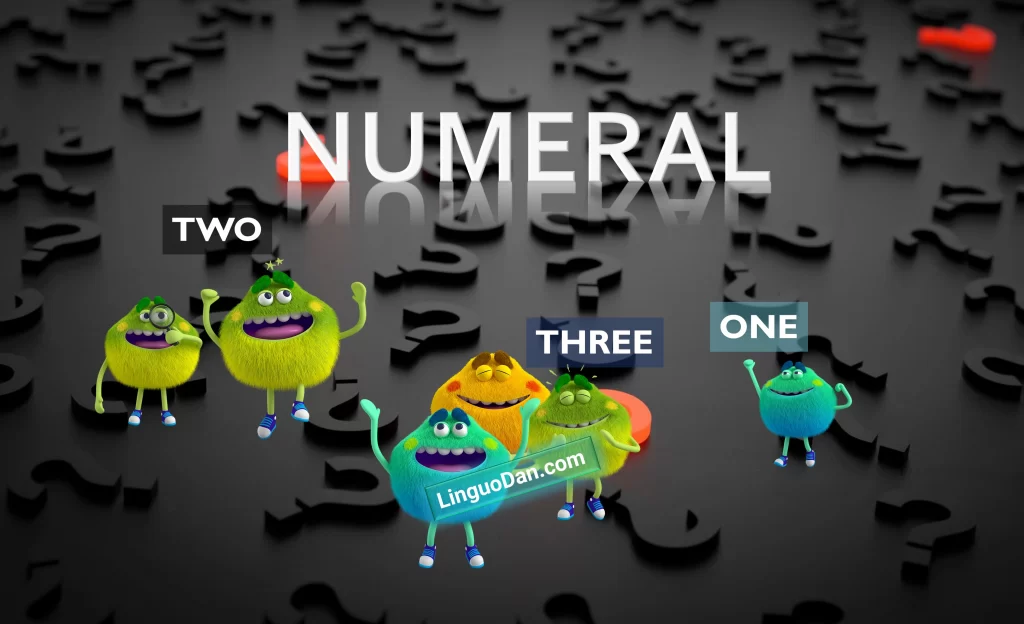 Numerals are the part of speech that indicates the number and order of objects and answers the question how many? which? Numerals in English are divided into cardinal and ordinal:
cardinal numbers – show the number of certain objects, phenomena, creatures and answer the question how many?
ordinal numerals  – indicate the order of objects, their serial number. Such numerals answer the question which? Can be formed on the basis of cardinal ones using the ending -th.
It is important to know:
When counting from 13 to 19, we add the suffix -teen to the root of a prime number from 3 to 9. At the same time, the roots of the words change in the numerals thirteen (13) and fifteen (15), and in the word eighteen the letter t is not doubled.
The number zero in English, depending on the context, can survive as:

zero ([ˈzirō] used in fractions, percentages, phone numbers)
0 ([əu] designation of years, time, addresses)
nil ([Nulʹ] accounts of sports games)

hundred, thousand, million, milliard/billion are not numerals in English, but are considered nouns, so they are used with the indefinite article a, or with the numeral one.
Tables with writing and transcription of numbers in English
| № | Number in writing | Transcription | Sequence number | Transcription |
| --- | --- | --- | --- | --- |
| 1 | one | [wʌn] | first | [fɜːst] |
| 2 | two | [tu:] | second | [ˈsɛkənd] |
| 3 | three | [θri:] | third | [θɜːd] |
| 4 | four | [fɔ:] | fourth | [fɔːθ] |
| 5 | five | [faiv] | fifth | [fɪfθ] |
| 6 | six | [siks] | sixth | [sɪksθ] |
| 7 | seven | ['sev(ə)n] | seventh | [ˈsɛv(ə)nθ] |
| 8 | eight | [eit] | eighth | [eɪtθ] |
| 9 | nine | [nain] | ninth | [naɪnθ] |
| 10 | ten | [ten] | tenth | [tɛnθ] |
| 11 | eleven | [i'lev(ə)n] | eleventh | [ɪˈlɛv(ə)nθ] |
| 12 | twelve | [twelv] | twelfth | [twɛlfθ] |
| 13 | thirteen | [θə:´ti:n] | thirteenth | [ˌθɜːˈtiːnθ] |
| 14 | fourteen | [ˌfɔː'tiːn] | fourteenth | [ˌfɔːˈtiːnθ] |
| 15 | fifteen | [ˌfɪf'tiːn] | fifteenth | [fɪfˈtiːnθ] |
| 16 | sixteen | [ˌsɪk'stiːn] | sixteenth | [ˌsɪkˈstiːnθ] |
| 17 | seventeen | [ˌsev(ə)n'tiːn] | seventeenth | [ˌsɛv(ə)nˈtiːnθ] |
| 18 | eighteen | [ˌeɪ'tiːn] | eighteenth | [eɪˈtiːnθ] |
| 19 | nineteen | [ˌnaɪn'tiːn] | nineteenth | [ˌnaɪnˈtiːnθ] |
| 20 | twenty | [ˈtwenti] | twentieth | [ˈtwɛntɪɪθ] |
| 21 | twenty-one | [ˈtwenti wʌn] | twenty-first | [ˈtwɛntɪ fɜːst] |
| 22 | twenty-two | [ˈtwenti tu:] | twenty-second | [ˈtwɛntɪ ˈsɛkənd] |
| 23 | twenty-three | [ˈtwenti θri:] | twenty-third | [ˈtwɛntɪ θɜːd] |
| 30 | thirty | [ˈθɜːti] | thirtieth | [ˈθɜːtɪɪθ] |
| 40 | forty | [ˈfɔːti] | fortieth | [ˈfɔːtɪəθ] |
| 50 | fifty | [ˈfɪfti] | fiftieth | [ˈfɪftɪɪθ] |
| 60 | sixty | [ˈsɪksti] | sixtieth | [ˈsɪkstɪɪθ] |
| 70 | seventy | [ˈsevnti] | seventieth | [ˈsɛv(ə)ntɪθ] |
| 80 | eighty | [ˈeɪti] | eightieth | [ˈeɪtɪəθ] |
| 90 | ninety | [ˈnaɪnti] | ninetieth | [ˈnaɪntɪəθ] |
| 100 | hundred | [ˈhʌndrəd] | hundredth | [ˈhʌndrədθ] |
| 101 | one hundred one | [wʌn ˈhʌndrəd wʌn] | one hundred first | [wʌn ˈhʌndrəd fɜːst] |
| 133 | one hundred thirty-three | [wʌn ˈhʌndrəd ˈθɜːti θri:] | one hundred thirty-third | [wʌn ˈhʌndrəd ˈθɜːti θɜːd] |
| 1000 | one thousand | [wʌn ˈθaʊz(ə)nd] | thousandth | [ˈθaʊz(ə)ndθ] |
| 1002 | one thousand two | [wʌn ˈθaʊz(ə)nd tu:] | one thousand second | [wʌn ˈθaʊz(ə)nd ˈsɛkənd] |
| 14567 | fourteen thousands five hundred sixty-seven | [ˌfɔː'tiːn ˈθaʊz(ə)nds faiv ˈhʌndrəd ˈsɪksti 'sev(ə)n] | fourteen thousands five hundred sixty-seventh | [ˌfɔː'tiːn ˈθaʊz(ə)nds faiv ˈhʌndrəd ˈsɪksti 'sev(ə)nθ] |
| 1000000 | one million | [wʌn ˈmɪljən] | millionth | [ˈmɪljənθ] |
| 1000000000 | one billion | [wʌn ˈbɪljən] | billionth | [ˈbɪljənθ] |