Phrasal Verbs with "Work": Expanding Your English Vocabulary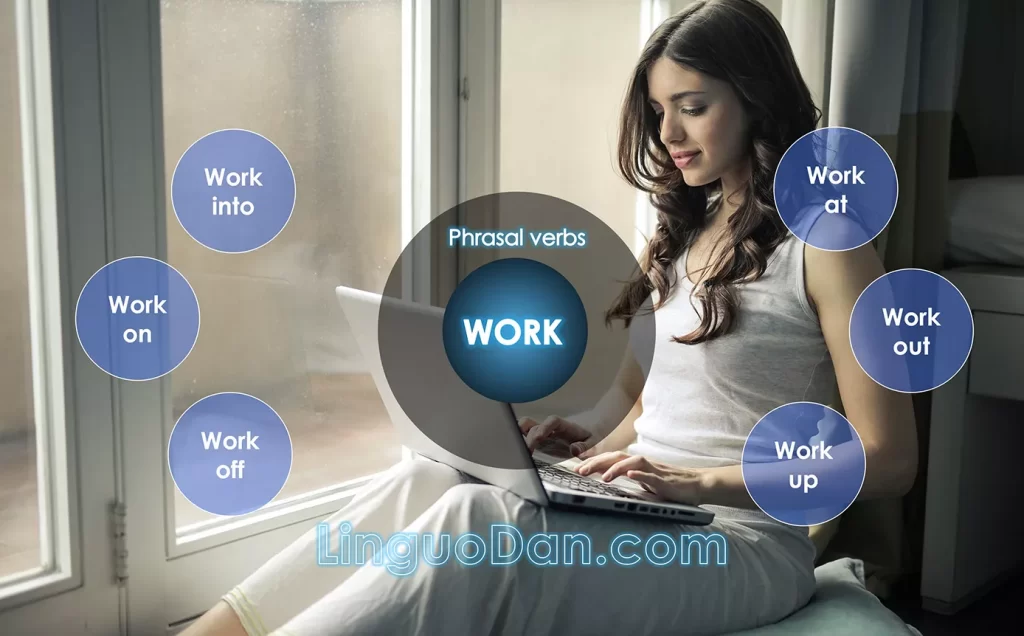 Phrasal Verbs with "Work": Expanding Your English Vocabulary
If you're an English learner looking to enhance your language skills, mastering phrasal verbs is a crucial step towards fluency. Phrasal verbs are combinations of a verb and one or more particles (prepositions or adverbs) that change the original verb's meaning. One common verb that often appears in phrasal verbs is "work" [wɜːk].  In this article, we will explore several phrasal verbs with "work" to help you broaden your vocabulary and improve your communication skills.
Work around to – turn a conversation towards a particular topic, subject

It was some time before he worked around to what he really wanted to say

Work at

– make great efforts to achieve something  

He's working at losing weight

Work against – to work against means to oppose or act in opposition to something or someone. It indicates a conflicting force or effort

The strong winds were working against us during our outdoor activity

Work into

– try to include something, add one substance to another and mix them together

Can't you work a few more jokes into your speech?
Gradually work sugar into the butter

Work in – to work something in means to find a way to include or incorporate it into a specific situation or context. It is often used when referring to adding information or fitting something into a conversation or schedule

I'll try to work in some time for a coffee break during my busy day

Work on – this phrasal verb refers to making an effort to improve or develop something. It can relate to personal growth, skill enhancement, or simply working towards a goal

Dad's still working on the car
We have to check this new drug to see how it works on animals
I'm currently working on improving my public speaking skills

Work off – this phrasal verb means to get rid of something through effort or physical activity. It is often used when talking about burning calories or eliminating excess weight

She worked off her anger by going for a walk
They had a large bank loan to work off
I need to work off those extra pounds I gained over the holidays

Work out – this phrasal verb has multiple meanings depending on the context. It can mean to exercise or engage in physical activity, such as going to the gym to work out. It can also mean to solve a problem or find a solution. Another usage of "work out" is when something unfolds or happens in a particular way, often unexpectedly or unintentionally

Have you worked out how much we owe them?
Tell me where you want to go and I'll work out a route
I'm sure things will work out for the best
I work out regularly to keep fit
We need to work out the details of the project before we start
The situation worked out in their favor, and they managed to resolve the conflict peacefully

Work over – this phrasal verb can have two main meanings. Firstly, it can mean to thoroughly examine, inspect, or evaluate something or someone. Secondly, it can mean to physically assault or attack someone

The mechanic is working over the engine to identify the problem

Work to – follow a plan, schedule

We're working to a very tight deadline

Work up to –  when you work up to something, you gradually prepare yourself or build up to a more challenging task or goal. It implies a progression towards a desired outcome

I'm starting with smaller projects to work up to the more complex ones

Work up – when you work up something, you are generating or building up a particular feeling, emotion, or level of intensity

I've been walking all day so I've worked up a really good appetite
The movie worked up a lot of excitement among the audience

Work through – when you work through a problem, a task, or an issue, you are making an effort to understand, resolve, or overcome it. It implies a process of tackling and addressing a challenge

We need to work through these disagreements to find a solution
These are just a few examples of phrasal verbs with "work." By familiarizing yourself with these expressions and their meanings, you can add depth and nuance to your English conversations. Practice using them in context, and gradually incorporate them into your daily language use. Remember, mastering phrasal verbs takes time and practice, but the effort will undoubtedly enhance your English skills and boost your confidence as a speaker. So, let's work on expanding our vocabulary and work towards English fluency!