Best TV Series to Learn English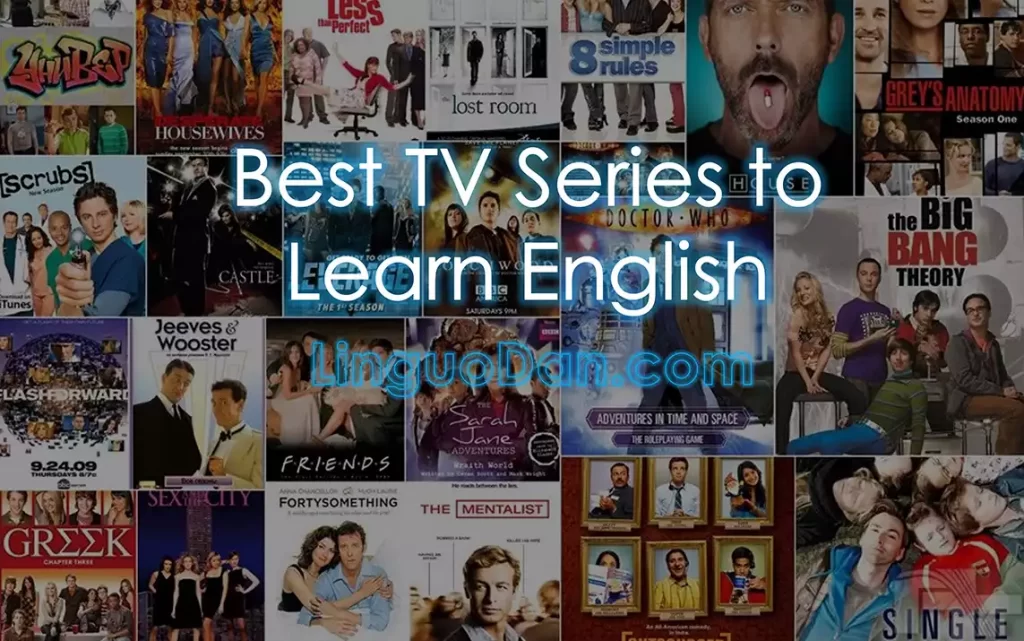 One of the best ways  is to learn English by watching TV shows and sitcoms. If you are an Elementary or Intermediate English learner without everyday contact with English, you need to prepare yourself for difficult stuff. Try to watch these series and TV shows in English with subtitles:
1. Extra@
Extra English is a language-learning sitcom broadcast in many countries. The success and innovation of the series is that it combines real learning with a genuinely entertaining, sophisticated and sometimes risque' sitcom format that appeals to the 'Friends' generation. Extra English is the story of Bridget and Annie, Hector and Nick, four good-looking 19–22 years old who are thrown together to play out their romances, life crises and contrasting interests in a familiar sitcom setting. Extra English will help you learn natural English and have fun at the same time. You will not be aware that you are learning English while watching.
2. Friends
Friends is an American television sitcom created by David Crane and Marta Kauffman, which aired on NBC from September 22, 1994, to May 6, 2004, lasting ten seasons. This hit sitcom follows the merry misadventures of six 20-something pals as they navigate the pitfalls of work, life and love in 1990s Manhattan. Although the show's humor often focuses on word-play, you can still understand the plot and have a load of fun while watching.
You can watch the full version of the series on Netflix
3. Sherlock
In this contemporary version of Sir Arthur Conan Doyle's detective stories, Dr. John Watson is a war vet just home from Afghanistan. He meets the brilliant but eccentric Holmes when the latter, who serves as a consultant to Scotland Yard, advertises for a flatmate. Almost as soon as Watson moves into the Baker Street flat, they are embroiled in mysteries, and Sherlock's nemesis, Moriarty, appears to have a hand in the crimes.
You can watch the full version of the series on Internet Movie Database (IMDb)
4. Lost
Lost was a popular serialized (continuous) television series made by the American Broadcasting Company, which ran six seasons from September 2004 to May 2010. TV series LOST explores the destiny of the passengers of Oceanic Flight 815 who crashed on an island. The survivors not only have to rely on each other, but also cope with the secrets the mysterious island holds. Some become friends, others enemies and some stories remain to be told. There's much more than meets the eye, as it becomes apparent that everyone is somehow connected and that everyone has a purpose.
You can watch the full version of the series on Internet Movie Database (IMDb)
5. Castle
Rick Castle, a famous crime novelist and rockstar of the literary world who finds inspiration for a new character from an unlikely source – the smart, beautiful, no-nonsense Det. Kate Beckett – whether she likes it or not. His fame gives him an all-access pass to her cases and he's working her last nerve. But somehow, together, they're the perfect partners in crime.
You can watch the full version of the series on Internet Movie Database (IMDb)
6. The Big Bang Theory
The Big Bang Theory is an American television sitcom created by Chuck Lorre and Bill Prady. Mensa-fied best friends and roommates Leonard and Sheldon, physicists who work at the California Institute of Technology, may be able to tell everybody more than they want to know about quantum physics, but getting through most basic social situations, especially ones involving women, totally baffles them. How lucky, then, that babe-alicious waitress/aspiring actress Penny moves in next door. Frequently seen hanging out with Leonard and Sheldon are friends and fellow Caltech scientists Wolowitz and Koothrappali. Will worlds collide? Does Einstein theorize in the woods?
You can watch the full version of the series on Amazon (AMZN).
7. House
House (also called House, M.D.) is an American medical drama television series that originally ran on the Fox network for eight seasons, from November 16, 2004, to May 21, 2012. Dr. Gregory House is devoid of bedside manner and wouldn't even talk to his patients if he could get away with it. Dealing with his own constant physical pain, he uses a cane that seems to punctuate his acerbic, brutally honest demeanor while his unconventional thinking and flawless instincts have afforded him a great deal of respect.
You can watch the full version of the series on Amazon (AMZN).