Formula 1 English Vocabulary: Understanding Racing Terms in English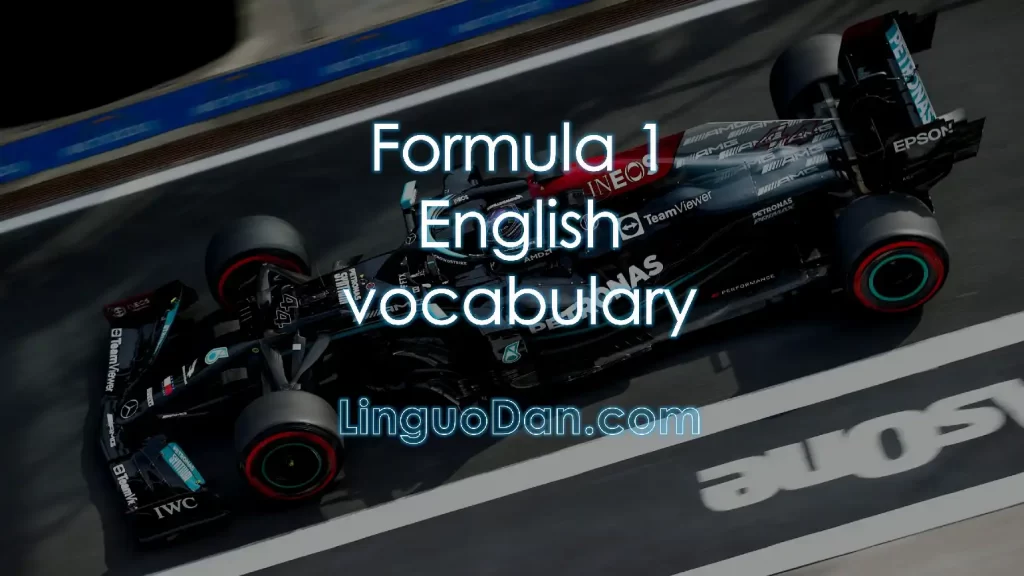 Basic Formula 1 terms for learning English
Formula 1 (or F1) is the most popular and most prestigious type of motorsport, in which the fastest and most technological single-seater racing cars compete. If you love speed, adrenaline and emotions, then Formula 1 is the perfect way to improve your English by listening to commentary, interviews and analysis about this exciting sport. In this article we will look at some of the main terms you may come across when watching or reading about Formula 1.
Racing teams and pilots
10 teams participate in Formula 1, each of which has two pilots. Teams compete for the constructors' championship, and pilots compete for the drivers' championship. Each team has its own name, colors and sponsors. For example, in 2020, one of the strongest teams was Mercedes, which had silver and black cars and two pilots: Lewis Hamilton  from Great Britain and Valtteri Bottas from Finland. Lewis Hamilton became a seven-time world champion in 2020, which is a Formula 1 record together with the legendary Michael Schumacher from Germany.
Racing tracks and grand prix
In each Formula 1 season, about 20-22 grand prix are held, which are separate races on various tracks (circuits) around the world. Each track has its own name, length, number of laps and features. For example, one of the most famous and oldest tracks is Monaco, which runs through the streets of the principality and has many turns, corners and chicanes that make overtaking difficult. Each Grand Prix consists of three sessions: free practice, qualifying and race. In free heats, pilots test their cars and adjust them for the track. In qualifying, pilots compete for positions at the start (grid positions) or positions (places) on the starting grid. In the race, pilots compete for points, which are calculated based on finishing positions. The first pilot who finishes the race is called the winner  or leader, and the last one is called the outsider (backmarker) or (tail-ender).
Racing cars and equipment
Formula 1 racing cars are very complex and expensive cars or single-seaters that have an engine, chassis, wheels, wings, brakes, suspension and many other components. Each car has its own livery, which is its color and design. Each pilot has his own racing suit, helmet, gloves and boots that protect him from injuries and fires. Each team has its own pit lane, pit and pit wall, where it makes pit stops, repairs and strategy. Each track has its own signal flags, light signals  and marshals, who control the rules, safety and order on the track.
The 25 most popular terms in Formula 1
In order to better understand Formula 1, it is worth knowing some of the most common terms used in the sport. Here is a list of the 25 most popular terms in Formula 1 with an explanation:
Car – a Formula 1 racing vehicle with high power, aerodynamics, and technology.
Free practice – sessions held before qualifying and the race, allowing drivers to test their cars and set them up for the track.
Brakes – a system enabling drivers to decrease the car's speed using heated discs and pads.
Grand Prix – an individual race within the Formula 1 championship held on a specific track in a particular country.
Grip – the car's traction with the track surface, affecting its control and stability.
Diffuser – the part under the rear wing that accelerates airflow under the car, generating downforce.
Reference lap – the best lap a driver has completed on the track used for comparison with other laps.
DRS – abbreviation for Drag Reduction System, allowing drivers to decrease aerodynamic resistance by adjusting the rear wing, enhancing speed and overtaking.
Corner – a track segment where drivers change the car's direction using the steering wheel and brakes.
Spare – an additional car or its part used in case of the primary car's malfunction or accident.
Qualifying – a session before the race where drivers compete for positions on the starting grid by achieving the fastest laps.
Wheel – a part of the car consisting of a disc and tire, facilitating the car's movement on the track.
Wing – an aerodynamic part resembling an airplane wing creating downforce, pressing the car onto the track. Formula 1 cars have front and rear wings.
Leader – the pilot holding the first position in the race or championship.
Marshal – an official ensuring safety and order on the track using flags and signals.
Overtaking – the action of a driver passing another driver occupying a lower position in the race using their speed and maneuverability.
Suspension – a system connecting the car's wheels and chassis, absorbing impacts and track irregularities while influencing control and stability.
Driver – an athlete controlling a Formula 1 car, associated with their team, number, colors, and helmet.
Pit stop – the car's stop in the pit lane, where the team can change tires, adjust the car, or perform actions affecting the race strategy.
Turn – a segment of the track where drivers must alter the car's direction using the steering wheel and brakes.
Position – the place a driver holds in the race or championship, determined by the points they have gained.
Grid – the layout indicating the order of drivers on the starting line of a race.
How to properly watch Formula 1 in English
Watching Formula 1 in English is a great way not only to enjoy exciting races, but also to practice your English. You can improve your listening, comprehension, pronunciation and vocabulary skills by listening to commentary, interviews and analysis about Formula 1. Here are some tips to help you watch Formula 1 in English:
Select the appropriate difficulty level. If you are a beginner, you can watch Formula 1 with Ukrainian subtitles or with English subtitles that you can find on YouTube or other sites. If you're an intermediate, you can watch Formula 1 without subtitles, but with pauses to check obscure words or phrases. If you have a high level, you can watch Formula 1 without pauses, but with the recording of new words or expressions that you want to remember.
Listen carefully and actively. When you watch Formula 1 in English, don't just listen, but also try to understand what the commentator, drivers and other people are saying. Pay attention to the context, intonation, emotions. Try to predict what they will say next or ask yourself questions about what you hear. This will help you focus and keep you interested in the race.
Repeat for commenters. If you want to improve your pronunciation and learn to speak like a native speaker, you can repeat the commentators when they talk about Formula 1. You can do this during or after the race by watching the recording. Try to copy their accent, intonation, rhythm and speed. You can also record yourself and compare your pronunciation with the original.
Use a glossary. If you come across unfamiliar words or expressions related to Formula 1, you can use the glossary of terms that we have provided in this article. You can search for meanings, examples, synonyms and antonyms of the terms you want to learn. You can also create your own flashcards to remember terms or use online services.
Connect with other fans. If you want to improve your speaking and writing skills, you can communicate with other Formula 1 fans who are also learning English. You can find them on social networks, forums, blogs or chats related to Formula 1. You can discuss races, teams, drivers, news, predictions, etc. You can also give each other feedback, advice and support. This will help you develop your communication skills and make new friends.
Practice interesting words (terms) from the Formula 1 race in English
Formula 1 is not only an exciting sport, but also a great way to learn English. You can improve your vocabulary, grammar, pronunciation and understanding by listening and reading about Formula 1. You can also learn many interesting facts, stories and anecdotes about Formula 1, which will make your English more lively and varied.